Avisen Legal is proud to announce that six of our esteemed attorneys have been named Top Lawyers in Minnesota for 2022 by Minnesota Monthly magazine. This prestigious recognition highlights the exceptional legal talent and dedication displayed by the Avisen Legal team. The honored attorneys are Bill Egan, Jeff Robbins, John Saunders, Kimberly Lowe, Lisa Holter Ankel, and Wade Wacholz.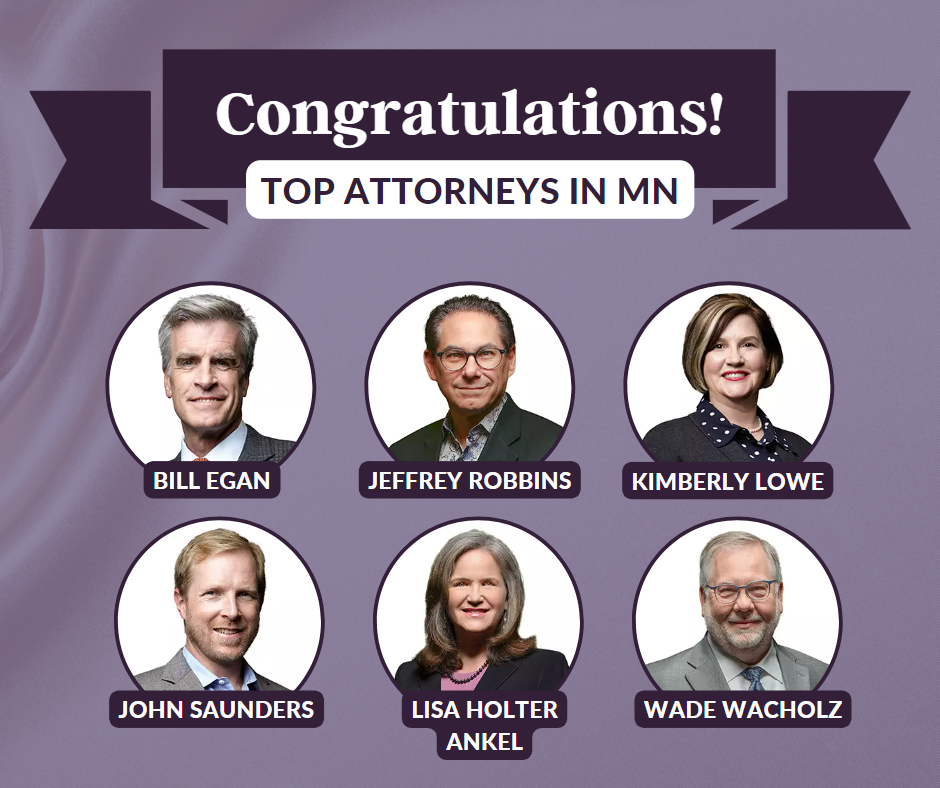 Being acknowledged as Top Lawyers in Minnesota is a testament to these attorneys' commitment to providing outstanding service and building strong relationships with their clients. Avisen Legal has established itself as an industry leader in the Minnesota legal landscape, and this recognition further solidifies our reputation for success.
Avisen Legal Honored for 7 Practice Areas of Business Law
The attorneys recognized by Minnesota Monthly span a wide range of practice areas, demonstrating Avisen Legal's expertise and versatility in meeting the diverse business law needs of their clients. Bill Egan received recognition in Labor and Employment Law, while Jeff Robbins was honored for his expertise in Securities/Capital Markets Law and Venture Capital Law. John Saunders was recognized for his excellence in Real Estate Law, and Kim Lowe showcased her proficiency in Corporate Law, M&A Law, and Nonprofit/Charities Law. Lisa Holter Ankel was acknowledged for her expertise in Corporate Law and M&A Law, and Wade Wacholz received recognition in Corporate Law.
Avisen Legal extends its gratitude to Minnesota Monthly magazine and all those involved in the selection process for this esteemed accolade. The firm is honored to work with its clients and be a part of the legal community alongside such talented peers.

How the Minnesota Monthly Top Lawyers List is Chosen
The Top Lawyers in Minnesota list is compiled annually by Minnesota Monthly magazine, which reaches over 343,000 highly affluent readers and celebrates the best that Minnesota has to offer. The selection process involves independent research across various practice areas, including a survey conducted by Professional Research Services and Minnesota Monthly, where attorneys vote for the top performers in their fields. Only lawyers who demonstrate exceptional skills and expertise are chosen for this prestigious honor.
Our Commitment to Minnesota and Beyond
Avisen Legal is known for its dedication to providing comprehensive legal services to clients across the country, with a focus on business law. The firm's team comprises partner-level experts in ten different practice areas, ensuring that clients receive the collective wisdom and experience of the entire team. With a commitment to making the complexities of business law easier to understand, Avisen Legal is well-equipped to handle a broad range of legal challenges.
Entrepreneurs and business owners looking for top-notch legal services can rely on Avisen Legal to deliver sophisticated counsel tailored to their specific needs. To learn more about Avisen Legal and their award-winning boutique business law services, interested individuals can contact the firm at (612) 584-3400, hello@avisenlegal.com, or by filling out the contact form available on their website.
About Avisen Legal:
Avisen Legal is a boutique law firm based in Minneapolis, Minnesota, offering comprehensive legal services to clients nationwide. With a team of partner-level experts in various practice areas, Avisen Legal is dedicated to providing personalized, effective, and understandable solutions for all business law needs. For more information, visit www.avisenlegal.com.
Contact:
Avisen Legal
Phone: (612) 584-3400
Email: hello@avisenlegal.com