Attorney Spotlight: John Saunders
From Vasaloppet to Birkebeiner: Tales from the Trails
Avisen Legal shareholder John Saunders didn't start cross-country skiing until he was in his late 20s. Since then, he has successfully completed well over 20 races, including 11 consecutive years skiing the Birkebeiner, a 50-kilometer cross-country ski race held annually in Hayward, Wisconsin. We spent some time with John before the 2022 Birkie to learn more about how this successful lawyer has managed to consistently train for and compete in the top cross-country ski races in the Midwest.
Q.  How did you get into cross-country skiing?
John: My brother David was an excellent skier for Hastings High School. He made it to the state meet. Inspired by my brother and his love of skiing, I followed in his footsteps – or should I say, ski tracks.  I started skiing during law school. I was totally self-taught and was too cheap to buy good equipment or even take a lesson. Because of this, it took me a long time to learn the sport.  Today, I teach kids through the Minnesota Youth Ski League at Hiawatha, but if an adult asks me about how to learn cross-country skiing, I always encourage them to take a lesson from a professional!
Q. The American Birkebeiner website says, "Once you ski the Birkie you're forever changed." How has cross-country skiing changed you?
John:  From the moment you commit to skiing the Birkie in April or May, you are making a year-long commitment to training for the 50km race. Cross-country skiing is really a lifestyle sport. In the summer and fall, I've learned to love trail running, mountain biking, swimming, strength training, and roller skiing. As winter approaches, so does the intensity of the training. Not only is the course quite grueling, but you also often face bitterly cold weather, wind, snow, sleet, and other "normal" winter conditions.
Q. So on race day, what's the vibe like?
John: It's a condition known in the Nordic ski community as "Birkie Fever." Symptoms include checking the weather way more than necessary, obsessing about ski wax, planning cabin stays and post-race meals, and just generally talking nonstop about the Birkie! There is great energy and comradery between the skiers. I really consider race day on Birkie Saturday as the capstone of my fitness year, and it is also my favorite day of the year! When you finish the Birkie, main street in downtown Hayward is lined with people cheering on the skiers and celebrating the day. There's nothing better than having good weather and a solid race to motivate you for next year's Birkie!
Q.  What advice do you have for people aspiring to ski the Birkie, Vasaloppet, or another cross-country ski race?
John: The lifestyle is really cool and runs throughout the entire year. Make sure you pick a friend group who is as committed to the race as you are; training together is much more fun. It's also important to plan for your training. Preparing to ski a 50km race requires a commitment from a physical endurance and a brain-space perspective. Keep it interesting and train with different activities like roller skiing, trail running, swimming or mountain biking. So, I encourage skiers to:
Keep it fun. It's not a job, it's a goal you have set for yourself.
Find a group of like-minded people who are also training for either a marathon or a cross-country ski race.
Find a trail you like for your workout adventures.
Remember, the more you ski, the easier it will get!
Get motivated to keep your energy high, especially when you consider talking yourself out of going for that run or bike ride.
Get your family into cross-country skiing so you can enjoy the sport together.
Q.  What else inspires you to keep cross-country skiing?
John: We are a Nordic family for sure. When I'm not practicing law, I lead the Hiawatha Ski Club for kids aged 4 – 12. In fact, our organization was recently featured on KARE 11 news. One of the big Nordic skiing champions, Jessie Diggins, is a local hero from Stillwater, MN. In fact, Jesse recently won silver and bronze medals at the 2022 Winter Olympic games. Jessie is an inspiration to everyone who knows her, and especially to the kids I coach.  It really is a growing sport and very family friendly.
Right now, we are preparing for the Hiawatha Hustle for the kids' ski club as the capstone event for the club!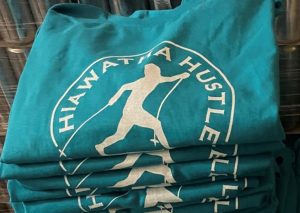 Q. What is one of the biggest highlights in your cross-country skiing career?
John: No doubt it was skiing – and finishing – my first Birkie 12 years ago. It was freezing outside and while I came out of the race with frostbite and hypothermia (I know – I'm not selling it), I set a goal right there that I would do the Birkie every year for the rest of my life.  I was so taken by the culture and, of course, the race itself. I caught a long-lasting case of Birkie Fever!
Q. How does cross-country skiing make you a better lawyer?
John: In skiing, as with client work, to be successful you must be strategic: set a goal, come up with a plan, and execute on that plan. Half the fun of skiing is the preparation that goes into the one or two big days each year that I compete. I know that, to generate results for my clients, I need to apply the same tenacity and discipline to my clients' legal matters as I do to prepping for a big race. In both law and skiing, you must have patience and a good attitude, even when it's hard.